Welcome to the 14th International EME Conference
The results of the Noise Figure measurements are now available here.
Thank you to our prize donors!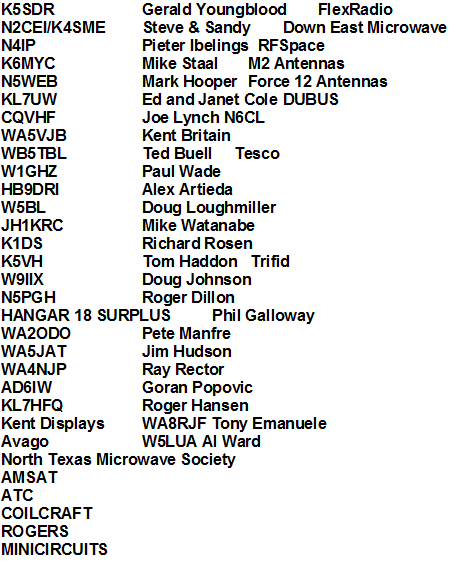 Our famous state side road warrior Paul Perryman WA5WCP/5 has agreed to pull his portable EME system complete with 12 ft (3.7M) parabolic dish to the hotel. Paul has capability on 1296 MHz and 2304 MHz so if you have yet to hear any EME signals on the higher bands, this is a great opportunity to hear it live and work stations.
WA5WCP and his portable EME setup
The Dallas-Fort Worth area offers a wide range of holiday/vacation activities. Plan on arriving at the conference hotel Wednesday afternoon or evening. We will have a hospitality suite and registration on Wednesday evening so we can get acquainted and prepare for a full day of family activities on Thursday.
We have been working with an excellent tour guide company and have pulled together some excellent tours of the Dallas Ft.Worth area. On Thursday we are offering a full day highlight tour of the Ft. Worth and Dallas area. Since there are no technical presentations planned for Thursday, we are planning for this to be a widely attended tour by both husbands and wives. While the technical sessions are going on during the day on both Friday and Saturday, we plan two full days of family activities. The Friday tour is a 9am to 3pm tour of the world famous Southfork ranch from the "Dallas" show plus a North Park Shopping Experience which is one of the largest and premier shopping centers in the country. On Friday evening it is time to put on your blue jeans and take your gal to Ft.Worth for a fun western styled evening at the Fort Worth Stockyards Championship Rodeo. We will leave the hotel at 630PM and arrive back at the hotel by 10:30PM. On Saturday morning while the EME guys are enjoying the technical sessions, the wives are invited to a guided tour of Historic downtown Grapevine.
We have several electronic vendors signed up to showcase their goodies. The vendor rooms will be open all day Friday and Saturday. If you are interested in obtaining a vendor table, please contact Craig KA5BOU at ka5bou at dfwair dot net as soon as possible before the start of the conference. More information to follow.
We will also have noise figure measurement equipment on hand to showcase your newest low noise amplifier or to help you troubleshoot a troubled LNA. Tommy WD5AGO and Al W5LUA will be coordinating the testing.
The EME conference will conclude with the Saturday evening banquet. A guest speaker is planned, details will follow. The meal for the banquet must be requested in advance on your registration form. We will have a short session on Sunday morning to wrap things up and then you are free to continue your travels. We hope that you can make the Dallas Ft.Worth area the center of your 2010 vacation or just a stopping point as you tour other parts of North America. The Dallas Fort Worth area is served by DFW International Airport making international travel easy while still a convenient jumping off point to other destinations within the U.S.A. or Canada.

EME communication has evolved quite a bit over the last 30 plus years. We have met many wonderful people and learned a lot from each other. Many of us are interested in a particular band, a particular mode, and have been striving for higher frequencies, but the common interest is still communication via the moon. I hope that all of you will use this conference as a means to renew old acquaintances and to meet new faces as well. This is truly a part of amateur radio where every advancement in technology can benefit our little part of the hobby. So…come for a day or two or three… bring a "newby" but just be part of the most fascinating aspect of amateur radio…EME!
Whether this will be your 1st EME Conference or your 14th we are looking forward to seeing you in Dallas in August 2010.

73 and GUD DX (via the Moon),
Al Ward, W5LUA
Barry Malowanchuck, VE4MA
Tony Emanuele, WA8RJF

2010 International EME Conference Staff:
| | |
| --- | --- |
| Al Ward, W5LUA | Conference Chairman |
| Tony Emanuele, WA8RJF | Conference Chairman |
| Barry Malowanchuk, VE4MA | Conference Chairman |
| Emily Ward | Tours & Family Program |
| Diane Emanuele | Tours & Family Program |
| Steve Hicks, N5AC | Web Site |
| Dale Boresz, WA8SRA | Web Site Registration |
| Jim McMasters, KM5PO | Conference Registration |
| Wes Atchison, WA5TKU | Registration / Proceedings / Treasurer |
| Craig Young, KA5BOU | Vendor & Exhibit Area |
| Bob Gormley, WA5YWC | Hotel Liaison & Prizes/Raffle |
| Chuck Clark, AF8Z | Registration/Equipment/Video |
| Kent Britain, WA5VJB | Auctioneer/Publicity |
| Tommy Henderson, WD5AGO | Noise Figure Measurements |
| Eric Silverthorn, NM5M | Conference Staff |
| Paul Perryman, WA5WCP | 1296/2304 MHz EME Demo |
| WA8RJF, VE4MA, G3LTF, KØYW | Moderators |
Conference History
1st 1966 New York City USA
2nd 1968 Paramus, NJ USA
3rd 1988 Thorn Netherlands
4th 1990 Trenton, NJ USA
5th 1992 Thorn Netherlands
6th 1994 Gotenburg Sweden
7th 1996 Bowie, MD USA
8th 1998 Paris France
9th 2000 Rio de Janeiro Brazil
10th 2002 Prague Czech Republic
11th 2004 Trenton, NJ USA
12th 2006 Wurzburg Germany
13th 2008 Florence Italy
14th 2010 Dallas/Ft.Worth, TX USA
NTMS Officers
| | |
| --- | --- |
| Chuck Clark, AF8Z | President |
| Kent Britain, WA5VJB | Vice President |
| Eric Haskell, KC4YOE | Secretary |
| Wes Atchison, WA5TKU | Treasurer |